PD-1
Unmanned Aerial System
One stop UAS solution for civil and military applications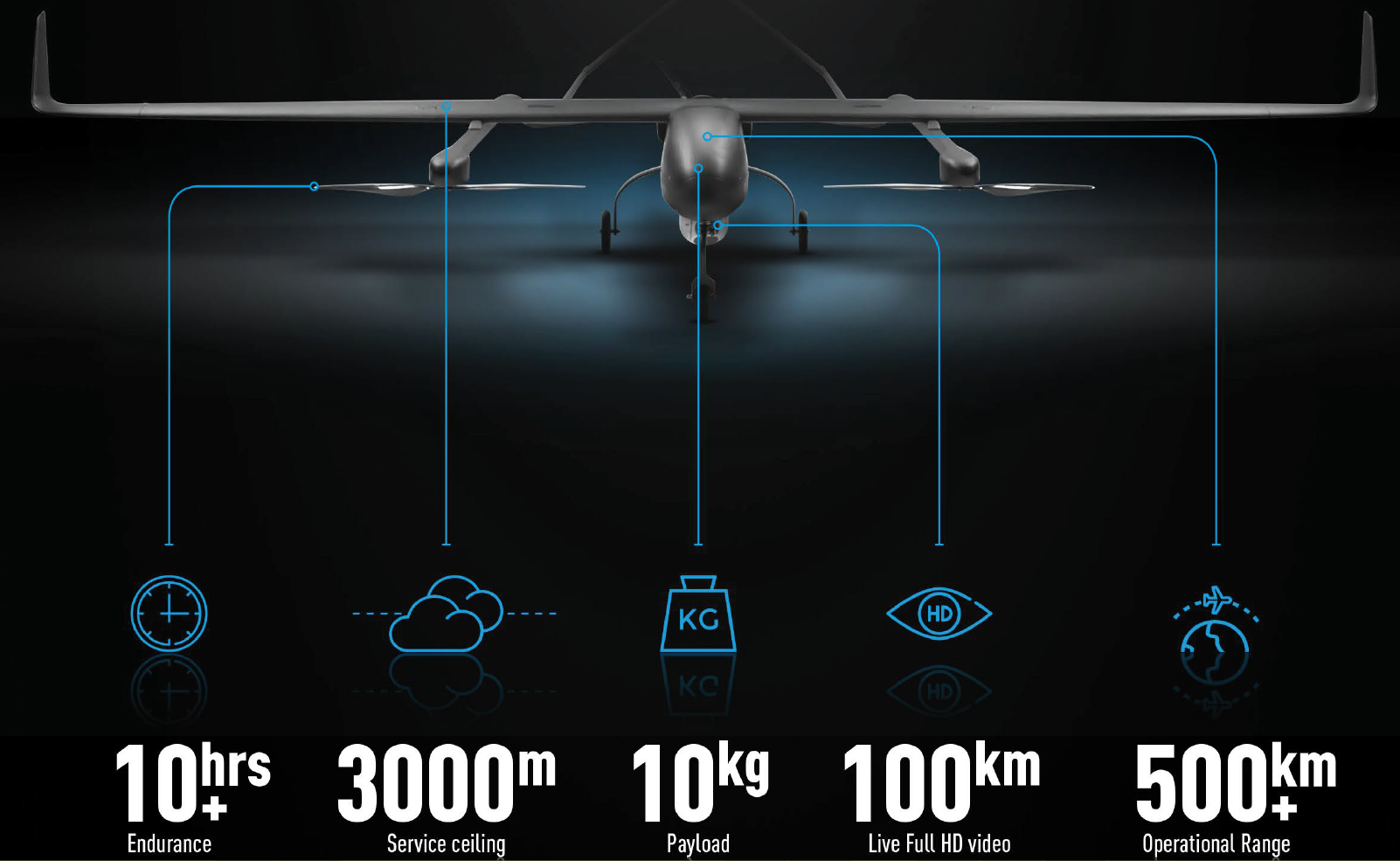 THE MOST FLEXIBLE UAV PLATFORM ON THE MARKET
PD–1 UAV is multipurpose modular fixed–wing UAV with a wide range of options and payloads to fit any mission and operational environment. It is a combat–proven solution since 2016 and previously tested for 2 years. During this time, the PD–1 UAS has proved its performance capabilities, anti–jamming features, and overall effectiveness while being able to operate in harsh environment.
The PD–1 drone is packed with high–end technology, featuring a reliable flight controller, an AES–256–encrypted digital data link, anti–jamming features, inertial navigation unit, navigation lights and much more other features to make drone operations safe and easy.
TECHNICAL SPECIFICATIONS
Flight controller is compliant with DO178 & DO254 standards.

MTOW 40 kg
Max payload 10 kg with full fuel tank
Wingspan 4 m
Length 2.5 m
Propulsion system 4–stroke
Takeoff method;

Runway / catapult / VTOL

Endurance 10+ hours
Service ceiling 3000 m
Cruise speed 25 m/s
Stall speed 16 m/s
Takeoff run 100 m (fully loaded)
PD–1 UAV Specifications
Maximum takeoff weight 40 kg
Empty weight 22 kg (with undrainable fuel)
Payload weight 10 kg
Flight time with 4–storke engine 10+ hours
Flight time with EFl upgrade Up to 15 hours
Practical ceiling 3000 m
Speed range 70–140 km/h
Cruise speed 95 km/h
Stall speed 50 km/h
Fuel A–95 mixed with oil
Deployment time 15 min
Launch Runway, catapult, VTOL
Recovery Runway, parachute, VTOL
Navigation GNSS, inertial navigation unit
Dimensions
Full length 2540 mm
Height 990 mm
Chassis track 670 mm
Chassis wheelbase 880 mm
Main wheel size 150x31 mm
Nose wheel size 127x31 mm
Wing area 1/17 m2
Wingspan 4000 mm
Mean wing chord 392 mm
Tip wing chord 300 mm
Root wing chord 420 mm
Aileron area 2x0.06 m
Flaps area 2x0.055 m2
Fuselage max width 266 mm
Fuselage max height 284 mm
Full projection area of V–tail on horizontal plane 0.278 m2
Full projection area of V–tail on vertical plane 0,123 m2