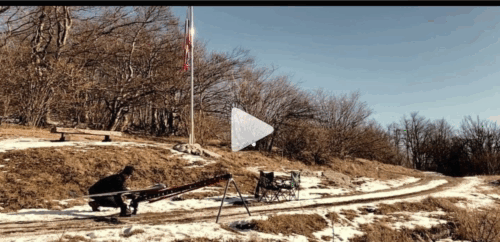 Military and surveillance
BRAMOR C4EYE
This special ops field proven BRAMOR C4EYE UAS line is appropriate for operations where real-time or near real time video observation and surveillance capabilty is of utmost importance. With an endurance of up to 3 hours, a standard data and payload link of 40km, or the optional MANET/MIMO digital communications capabilites.
IN OPERATIONAL USE ON FOUR CONTINENTS
BATTEFIELD AND SPECIAL OPS PROVEN
" We have put this machines through their paces in battle zone conditions and the MOD decided that this will be the UAS of choice for future procurement"
\ A SOVEREIGN C4EYE OPERATOR IN EUROPE \
"The ultimate C4ISR Solution – the most capable and affordable small UAS in its class in the world !"
\ A NATO OPERATIONS C-ASTRAL USER \
From the official YouTube channel for NATO Joint Force Command Brunssum.
FEATURES AND APPLICATIONS
LONG RANGE 40 km optional to 55/75 km
IP MIMO / MANET DATA VIDEO LINK
ENCRYPTED COMMUNICATION MANET ( Mobile Ad Hoc Network)
MIMO (Multiple in /multiple out) optional secure digital communcation
WILDFIRE MANAGEMENT
ENVIRONMENTAL CONTROL
INFRASTRUCTURE CONTROL
OVER THE HILL OBSERVATION (LOS)
NIGHT SURVEILLANCE
FIRE CONTROL
CIVIL DEFENSE
TARGET DETECTION AND TRACKING
LOW INTENSITY CONFLICT ZONE CONTROL
SEARCH AND RESCURE MISSIONS
ANTI POACHING
NGO SUPPORT MISSIONS

DIMENSIONS - WEIGHT
| | |
| --- | --- |
| Wingspan: | 230 cm≥ |
| Length: | 96 cm≥ |
| Central module length: | 67 cm≥ |
| T/O Weight: | 4,7 kg |

Basic C4EYE system package
The system consists of the air vehicle with a EYE-X sensor, a foldable portable takeoff catapult and rugged ground control station. The system is highly mobile and fits into a MILSPEC, rain resistant backpack with the GCS embedded industry standard rugged package and is designed for fast deployment, flight ready in less than five minutes. It can be safely operated by single operator/pilot in command.
BRAMOR C4EYE airframe

KJ-200 rugged GCS
UAS flight control software
ASTRALTRACK antenna
C-Astral REACH30 Video transmitter system (40km LOS tested transmission of video)
CAT 1 catapult launcher
Recovery parachute (2 units) with protective packs
Set of basic spares
Battery charger
Flight case transportation system
Documentation & Manuals

Sold more than 250 unmanned aerial systems. Tactical ISR systems are in use for more than 10 years, with 4 NATO, 5 non NATO forces and police forces in more than 30 countries.

CAMERA