EYE-X EO-IR-LI HD2 Gimbal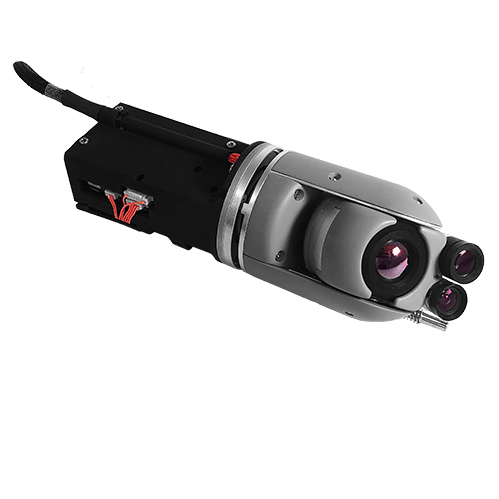 The EYE-X HD 2 gimbal brings the capabilities of much larger UAS systems to the tactical level.
Equipped with high-resolution EO and IR sensor with an optional laser illuminator, capable of detecting, tracking, following and geo-locating targets, objects, features and infrastructure, day and night.
Features:
EO Resolution: 1280 x 720
EO zoom: 20x + 2x digital (total 40x) continuous
Thermal camera: LWIR uncooled (8 -12µm)
IR Resolution: 640 x 480 (BH/WH toggle)
IR zoom: 4x digital
Gyro continuous stabilization
IR Laser pointer ( 850nm 5mW Class IIIb)
Target tracking, Pursue mode and Geo-Location
NETD better than 0.05°C
On-board / Off-board Recording
Video RSA4096 with AES256 encryption
Operating temperature -20˚C to +55˚C
Video embeded KLV metadata
GEO-LOCATION
Video Picture with target Location

Geolocation of the UAV and its target on ground Station overview picture
40X EO ZOOM
A small yet capable camera that provides exceptional magnification. Two EO imagers with different FOV and added digital zoom.
4X THERMAL IR IMAGER
LWIR uncooled thermal imager with high contrast and detail works in BLACK HOT, WHITE HOT and FALSE COLOR mode.